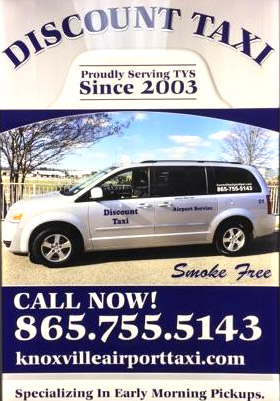 Discount Taxi is a competitively priced, service-oriented ground transportation company specializing in airport taxi service near the Knoxville TN Airport and surrounding areas.

Discount Taxi has been in business at the Knoxville TYS Tyson McGhee Airport in Alcoa Tennessee for 13 years.

This taxi service is open 24 hours per day, 7 days per week.

All of our vehicles are late model vans with plenty of storage space. We pride ourselves with smoke free and clean taxis.

Discount Taxi specializes in Early Morning Pickups. We have drivers at the airport at all times. We offer over the road transportation package deals and we are convenient to the Knoxville Metro Area, Oakridge TN, and the Great Smokey Mountains National Park.

It is our solemn promise and commitment to our valued customers that this remains our minimum standard of services.